Silverthorne is a beautiful town in Colorado, often referred to as the "Gateway to Summit County". Nestled in a valley, and surrounded by forest on two sides, it has breathtaking mountain, valley, and lake views. It's a great vacation destination for anyone who wants easy but less-expensive access to ski resorts, fishing, and nature.
There are many things to do in Silverthorne. However, many of them depend on the season during which you are visiting. Rest assured that you won't be bored, no matter what time of the year it is. With so many affordable places to stay in Silverthorne, there's no excuse not to go there.
Here are the 8 best things to do in 
Silverthorne

.
1. Enjoy Water Sports on the Blue River
The scenic Blue River winds through the heart of town. Anglers will enjoy fishing at the river, which is home to four different types of trout and some salmon too. For water sports enthusiasts, there is sufficient white water to enjoy rafting, canoeing and kayaking.
2. Go Hiking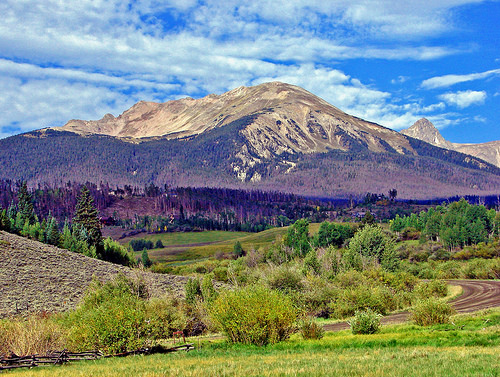 Image via Flickr by inkknife_2000 (9 million views)
There are 49 hiking trails in Silverthorne, ranging from easy to moderate and difficult. The trails are scenic and you may see wildlife too. The most popular trails are Eaglesmere Lakes, Boulder Lake, and Ptarmigan Peak.
3. Play Golf
The 18-hole Raven at Three Peaks Golf Course is one of the top courses in the country because of its spectacular setting and challenging design. The lush rolling fairways and pristine greens are surrounded by towering trees, snow-capped peaks, and crystal-clear mountain creeks and lakes.
4. Have Fun at Rainbow Park
Rainbow Park is a 7-acre community park filled with outdoor entertainment. It has recently undergone a major makeover. The park features tennis, volleyball, and basketball courts, a skateboard park, and children's playgrounds. Spectator events and community festivals are held here too.
5. Go Skiing
The Silverthorne Nordic Center offers free Nordic skiing with different types of trails to suit different skill levels. You can participate in cross-country skiing and snow shoeing. A little further off, five world-class ski areas are within a 30-minute drive of Silverthorne. A free bus service transports visitors from the mountain towns to the ski areas.
6. Go Ice Skating
North Pond is a natural pond with panoramic views where families go from December to February to ice skate, play ice hockey, or indulge in catch-and-release ice fishing.
7. Enjoy Indoor Entertainment at the 
Silverthorne

 Recreation Center

Although the Silverthorne Recreation Center can be enjoyed year-round, its indoor facilities are ideal in winter. It has several heated pools, water slides, a gymnasium, a climbing wall, and an indoor hot tub and sauna.
8. Shop at the 
Silverthorne

 Factory Outlets

If you need some retail therapy, Silverthorne boasts a large collection of factory outlets offering great prices on brand-name goods. It's a bargain hunter's dream.

Silverthorne is the ideal holiday destination for anyone who loves nature and the outdoors. Its residents are friendly and hospitable and will make you feel right at home.

Featured Image via Flickr by Jasen Miller.

Disclosure: 13