Phoenix is the capital of Arizona and the sixth largest city in North America. The city's dry, sunny weather attracts visitors year round and makes it a great destination for any trip. Nicknamed the Valley of The Sun, Phoenix offers an abundance of activities. With so many places to stay in Phoenix, you'll be able to find a hotel located near your interests. Here are a few activities you might want to include in your itinerary.
Things to do in Phoenix , Arizona
1. Go Hiking on Camelback Mountain
Camelback Mountain is the highest mountain in Phoenix and one of its most scenic hiking spots. It is 2,704 feet above sea level and boasts panoramic views of Phoenix and neighbouring Scottsdale. There are various hiking trails available depending on your experience. It is best to go during the early morning or late afternoon, when the desert heat is not at its most intense.
2. Visit the Desert Botanical Garden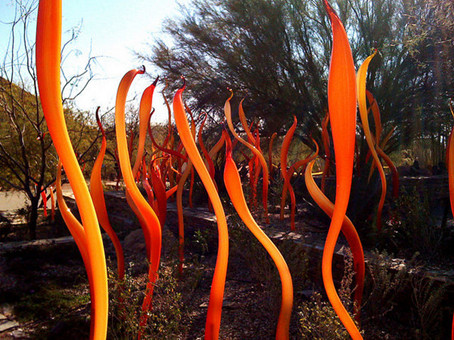 Image via Flickr by kingrahsu
The Desert Botanical Garden in Papago Park opened in 1939. It contains one of the world's finest collections of arid plants from deserts around the world. It is also classified as a museum. There are more than 50,000 desert plants on display through five themed trails spread across more than 50 acres. The Desert Botanical Garden frequently hosts events like exhibitions and concerts too.
3. Take a Tour of the "Haunted" Wrigley Mansion
The Wrigley Mansion is an elegant building that chewing gum magnate William Wrigley Jr. originally designed in 1932 as a 50th anniversary gift to his beloved wife. Perched on a hilltop, it has spectacular views of the mountains and the city below.  The architecture incorporates Spanish, Californian, and Mediterranean elements. The Wrigley Mansion is a Phoenix Point of Pride. It is rumoured to contain ghosts, too!
4. Have Fun With the Kids at the Phoenix Zoo
The Phoenix Zoo opened in 1962. It's the largest privately owned, non-profit zoo in the United States, and a great place to take the kids. The zoo features lush gardens and water landscapes. It is home to over 1,400 animals, including Komodo dragons, Sumatran tigers and Asian elephants. When the children get tired, they can hop on to the train and do a narrated safari train tour or visit the 4-D theatre.
5. Go Back in Time at Heritage Square
The historic Heritage Square is a reminder of Phoenix's Victorian past. It consists of eight lovingly restored houses dating back to the late 1800s and early 1900s. Many of them now contain shops and restaurants, along with other tourist attractions like the Arizona Doll and Toy Museum.
6. Learn About the History of Music at the Musical Instrument Museum
This is one of Phoenix's most popular museums. It houses more than 6,000 instruments from over 200 countries, including instruments played by legends such as Elvis Presley, John Lennon, and Carlos Santana.
7. Experiment With Science at the Arizona Science Center
The Arizona Science Center has hundreds of interactive exhibits in various galleries, and each one has a unique theme. The science centre also has an IMAX theater and a planetarium. The museum makes learning about science fun for the kids.
There are many more great things to do in Phoenix , making it a wonderful holiday destination.
Disclosure: 13