San Francisco is the commercial, financial, and cultural heart of Northern California. There are dozens of neighbourhoods in San Francisco, each one with its own personality. Here are seven things to do in San Francisco .
1. Walk Along the Golden Gate Bridge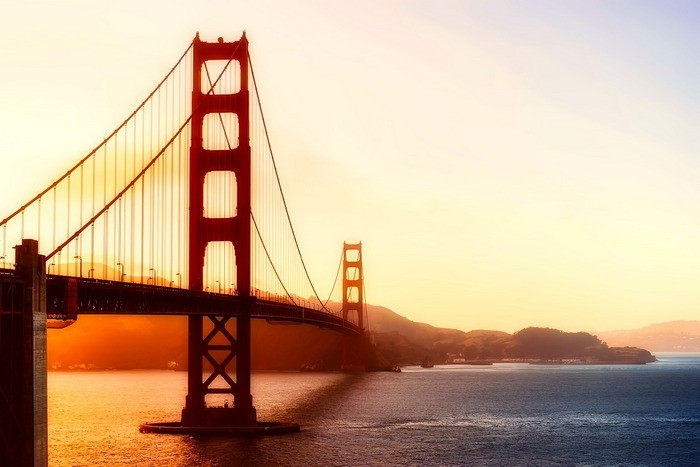 The Golden Gate Bridge is one of the most picturesque bridges in the world and one of San Francisco's most famous landmarks. The bridge was built in 1937 and is named after the Golden Gate Strait, which is the body of water that it spans. The best place to photograph this landmark from is the Golden Gate Bridge Vista Point, which is situated high on a hill overlooking San Francisco.
2. Cycle Through Golden Gate Park
Golden Gate Park is one of the largest man-made parks in the world. It boasts landscaped gardens, forests, monuments, and lakes. If you want to experience everything the park has to offer, set aside a full day.
3. Marvel at the California Academy of Sciences
Although the California Academy of Sciences is located inside Golden Gate Park, I have listed it separately. as it merits a special mention. This unique attraction features a planetarium, an aquarium, a natural history museum, and a rainforest. The four-story living rainforest is home to butterflies, birds, and tropical plants. The aquarium contains the world's deepest indoor living coral reef, and the tropical lagoon is home to a colony of African penguins.
4. Escape to Alcatraz Island
Alcatraz is one of the most famous former prisons in the world, thanks to movies like "Escape from Alcatraz." Rich in history, the island used to be a maximum security prison for some of the most notorious criminals, like mob boss Al Capone. Before that, it was a military prison for prisoners of war. For a more chilling experience, do the night tour.
5. Go Back in Time at the Walt Disney Family Museum
The Walt Disney Family Museum was founded by Walt Disney's daughter, Diane, and pays tribute to his life and legacy. It contains 248 awards won by Disney, historic items that inspired him, and much more. A "Fantasia"-themed theatre screens Disney classics six days a week. This museum will give you insight into the man behind the mouse and is a must for all Disney fans.
6. Ride a Historic Landmark
The San Francisco cable car system is the last remaining manually operated system in the world. The first cable cars began in 1873, and there were 23 at one point. Now there are only three left. You can visit the Cable Car Museum to learn about them. You can also ride a colourful vintage streetcar here.
7. Indulge in Foodie Heaven at the Ferry Building Marketplace
Three times a week, the Ferry Building hosts the largest farmers market in San Francisco. Here, regional farmers sell fruit, vegetables, flowers, cheeses, meats, and other edible products. There are also some permanent stalls and restaurants.
These are just some of the things to do in San Francisco . Visit the Golden City and experience them for yourself.
Find accommodation in San Francisco here.
Disclosure: 13